John McLaughlin
---
If you would like to send in your comments or to contribute your material to these pages, please send your mail to: Alex Bunard. I will try and post your contribution within seven days from the time I receive your mail
---
Probably one of the greatest guitarists in the world. Came into prominence during the early seventies when he took the world by a storm with his highly acclaimed Mahavishnu Orchestra. The short lived, but extremely intense musical adventure of the Mahavishnu Orchestra established McLaughlin as the brightest star on the musical firmament of the glorious fusion scene in the seventies.
There have been only three guitarist before McLaughlin whose influence could be compared to the undeniable impact of McLaughlin's musical vision -- Django Reinhardt, Charlie Christian and Wes Montgomery. Among the four of these guitar Masters, McLaughlin stands out as the most intense, most virtuosic, most spiritual. This should not be too surprising, given that his aim was to achieve the level of guitar playing that could be comparable to the level of saxophone playing achieved by John Coltrane. McLaughlin's early testimonies point to the fact that, while he simply had always adored many of the mainstay jazz guitarists, he was always wondering how come no one attempts to elevate their playing to the lofty heights that Miles Davis and John Coltrane and Ornette Coleman (as well as the other progressive jazz musicians) have hinted upon. By finding himself in such a vacuum, he was propelled to the previously unheard of heights of guitar mastery.

This impetus resulted in some of the most intense music ever played. Listeners throughout the world have always been mesmerized by many of McLaughlin's staple ingredients that defy rationalization -- his odd time signatures that somehow bend out of shape the regular flow of time, his blisteringly fast ever-ascending runs that unmistakably convey the sense of spiritual search, realization and bliss, his tantalizingly elusive harmonies that stretch our ears beyond the realm of the ordinary, his razor-sharp rhythmic patterns that make us feel as if we're floating, suspended above the ground... All of these musical elements were stunningly new when he introduced them back in 1970. Even now, almost thirty years later, his recordings sound fresh and exciting.

McLaughlin's influence on the younger generations of guitarists and musicians in general is staggering. One would be hard pressed to find a contemporary guitarist whose overall approach to guitar playing is not deeply influenced by the many-faceted genius of John McLaughlin.


Biography
Discography
Style
Personality
Resources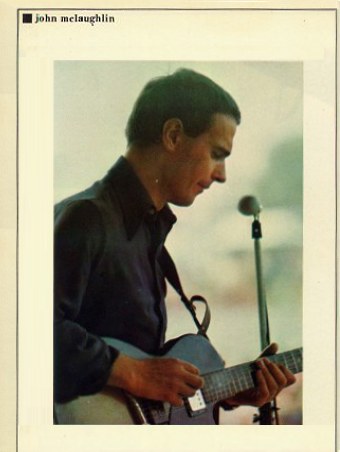 ---
All original material in these web pages copyright © Alex Bunard.